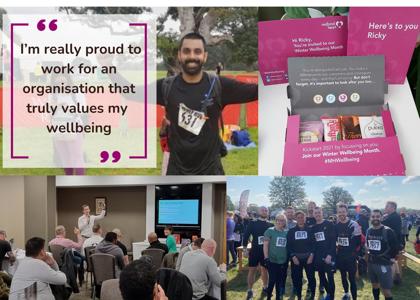 ---
Midland Heart
---
The Covid-19 pandemic posed a challenge for organisations to foster a safe and supportive working environment, where individuals felt included, valued and empowered to reach their full potential with colleagues' wellbeing more important than ever. With this approach in mind, Midland Heart developed a wellbeing strategy that supported their diverse workforce who were adapting to new ways of working and living.


The pandemic created unprecedented and unique situations for colleagues, with each individual dealing with different circumstances, such as 34 per cent of staff becoming key workers overnight and 66 per cent suddenly having to work remotely, juggling childcare at the same time, through to others needing to shield or completely isolate themselves from their support networks. Many employees told the company they were worried about isolation and being able to perform their duties effectively, with many facing financial pressures and anxiety from the uncertainty of the situation. The company understood this and knew it could detrimentally impact colleagues' wellbeing, sickness absence, productivity and service delivery.


Midland Heart committed to developing a wellbeing response to guarantee that every employee, regardless of their unique circumstances, felt supported, connected and prepared to deal with these problems, and that response needed to be immediate, comprehensive and adaptable to changing events.

The company initially identified important employees from the HR team, as well as executive, communications and colleague representatives, to define, develop and implement its wellbeing response. These teams collaborated carefully to determine the approach and strategic goal, which was to develop a safe and supportive environment both within and outside of the physical workplace so that everyone could feel connected and perform their best, despite the challenges and uncertainty created by the pandemic, enabling effective leadership where managers take a consistent and supportive approach to wellbeing, but also recognising the individual needs of their colleagues.
The judges felt this was a highly comprehensive, high-impact programme that shined as an example of how employers can support their employees through the pandemic and beyond. They recognised that the programme identified clear and urgent needs, including staff isolation and vulnerability and, later on, lockdown fatigue.


The judges were impressed with the impact of the work and it was clear that the team used a diverse variety of data to support this, which included relevant people measures (97 per cent of employees feeling supported through the pandemic) as well as service delivery indicators.