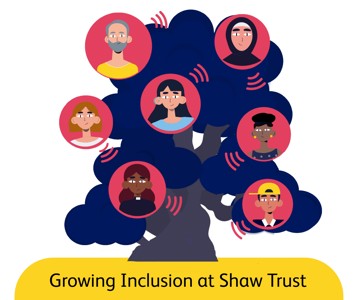 ---
Shaw Trust
---
With 3,600 employees and 800 volunteers, Shaw Trust is a not-for-profit social company that supports people with disabilities and social and economic issues from 'kid to career'.

The trust provides services to a variety of clientele that encounters numerous obstacles and it saw the value of hiring and maintaining diverse talent in delivering and decision-making roles. But despite being a diverse organisation, diversity was less obvious in decision-making, senior and board-level roles, and the trust recognised that its diversity data had gaps in it, particularly in terms of ethnic origin, sexual orientation and disability. Therefore, updating this data was a top priority.
The board approved an ambitious equity, diversity and inclusion (EDI) plan that spanned five years. A specialised EDI adviser was established and, in 2021, the number of resources doubled.

But the Shaw Trust understood that a top-down strategy would not work and help it accomplish its goals, as it felt various teams had to be involved, committed and trusted. To address this, it focused on the need to build trust to encourage colleagues to share their diversity data, to create diversity at all levels of the organisation, to be intentional in creating an inclusive culture, to create psychological safety and to support managers to become inclusive leaders.
The organisation took time to understand the reasons for colleagues' reluctance to share their diversity data and addressed this by asking staff of all backgrounds to create posters with the tagline 'Why I share my D&I data'. The trust stated its intention to undertake ethnicity and disability pay gap analysis and highlighted the critical role played in this.


The trust also consulted on and amended diversity categories, modified systems for updating and reporting, and received support from staff networks. Positive action was taken to recruit diverse board members by engaging an executive search firm experienced in sourcing diverse talent.


Barriers were identified to improve the diversity in senior roles, which included a lack of development opportunities, lack of confidence to apply for opportunities, colleagues' talents and potential not being discussed in appraisals, and line managers not recommending opportunities.


The judges felt it was a strong entry that took a holistic approach, tackling many strands of difference and using data to influence decision-making while working with a limited budget during a period of rapid growth. They were also impressed by how the trust managed to address missing data so it was clear on what the challenges were based on using good demographic data.