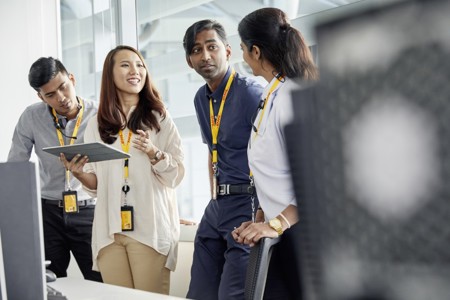 ---
Deutsche Post DHL Group
---
In an effort to break away from traditional approaches and become more employee centric amid the height of the pandemic, Deutsche Post DHL (DPDHL) recognised the need to create a fresh learning strategy and reflect the needs of its 570,000 employees worldwide.
As the company pondered how to join up all those people and ensure everyone has access to learning, it took a step to harness the power of digital through its 'Learn and Grow' strategy.
As DPDHL's 2025 talent strategy puts a large emphasis on identifying the present skills in the team and uncovering potential skills that are relevant to tomorrow, the organisation shifted from a content-needs analysis learning strategy to a personalised, skills-based approach centred on the learner experience.
This allowed it to engage employees in a transparent way and on an individual level that saw employee active learning consumption go up by 93 per cent in 18 months – which translated in significant reduction in learning cost per user on key programmes.
The firm's learning strategy was built upon two pillars – 'Learn and Grow', which acts as a career marketplace and focuses on the learner's personal growth, and 'Certified', which encompasses the skills learners need for their roles and the organisation.
In order to unify the learning experience and provide an equal opportunity for the five employee divisions, as part of the Learn and Grow pillar DPDHL put in place AI and ML (machine learning)-powered enablement tools, which it used in a gradual and user-friendly way.
As part of the Certified pillar of the programme, each leader within the company participated in a two-three week training programme that equipped them with advanced communication and facilitation skills, so they could comfortably pass the knowledge on to their colleagues.
To measure the outcomes of its efforts, the company tracked performance, primarily looking at training hours, cost and licences, as well as completion rates for mandatory training, which has seen the consumption of learning jump from 65 per cent to 98 per cent over the past two years.


The judges praised the scale of the project, which worked with more than 30-40 languages and a user base of more than 600,000, with 60,000 recruited during the pandemic, which meant the learning platform was integral to the onboarding and retention of the staff.
The judges also emphasised how this digital initiative was also very human with all the contexts shared, stating they were "very impressed" with so many different strands.