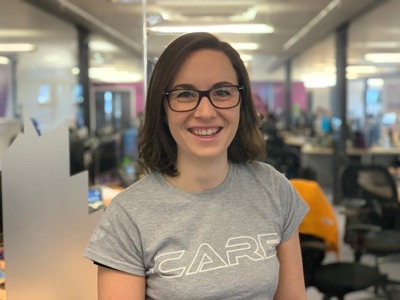 ---
Gemma Berrington
Softcat Ltd
---
After being a fully remote workforce during the pandemic, Softcat transferred to a hybrid working model in November 2021, a move it hoped would encourage employees back into its offices to improve culture and employee engagement.
Gemma Berrington, early years L&D team leader at Softcat, noticed how fundamental the induction process was in immersing employees into the culture, instilling the values and setting behaviours from their very first day, and with this in mind developed an initiative to move the technology reseller's virtual sales induction to a hybrid induction, compromising in-person cohort training, virtual training accessible remotely, and on-the-job training supported in local offices by managers and mentors. This new induction method would ensure new starters in the business were immersed into the culture, gaining an improved experience of induction while considering flexible working.
The initiative was implemented using a range of considered, psychology-backed methods. Gemma told the judges she began with focus groups of sales executives and their managers, which helped her to complete a SWOT analysis of induction, during which she made use of her knowledge of group dynamics and theories such as Tuckman and Jensen and Tubbs to better manage these groups, creating a safe space for feedback. She used Clive Shepherd's three Ls to question effectively, encouraging purposeful discussion, and followed with several evaluation techniques, including Bloom's taxonomy and ROE to put together a hybrid induction schedule.
Gemma measured the success of the new hybrid induction with a survey. Of the November cohort – the first – all 22 sales executives responded. This was followed up with a focus group to discuss some of the areas in more depth, which led to Gemma adding the question: 'How well did hybrid induction immerse you into the Softcat culture?' Attendees rated this out of five and left comments to justify their answer. Eighty-two per cent of the November cohort rated this a five and commented on the fun elements, starting together as a cohort and meeting so many senior members of the business.
Alongside her CIPD Level 5 qualification Gemma has also been completing an L&D apprenticeship.