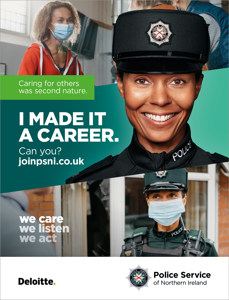 ---
Police Service of Northern Ireland
---
In 2021, the Police Service of Northern Ireland (PSNI) – the policing organisation for all of Northern Ireland – decided to transform its approach to recruitment by launching a new initiative that would alter perceptions about the PSNI as a career option, confront recruitment barriers, and increase the reach of its advertising among underrepresented groups. This decision was motivated by the need to attract a sizeable number of talented candidates with values that could inspire positive change in society, as well as a desire to communicate the message behind the PSNI's corporate branding.
The PSNI was given an extraordinarily difficult hiring estimate for 2021-22, which required it to fill more than 50 posts with 400 police officers and 300 police staff, by promoting a more welcoming 'police family' culture, raising awareness of the various police staff positions available, and directing all prospective applicants to their recently merged 'Join PSNI' employment website.
The person who has an innate desire to act morally for the benefit of others is the ideal candidate for modern law enforcement, and the organisation's strapline – 'We Care, We Listen, We Act' – promoted this awareness. The PSNI put together the advertising portion of its 2021 student officer campaign by performing extensive quantitative research to better understand their target demographic and approach the communication challenge from many angles.
The judges thought it was an "exceptional" entry as it approached recruitment and resourcing in a complicated, competitive labour market where policing is under a microscope, and felt the initiative had a clear connection to broader discussions about societal transformation.