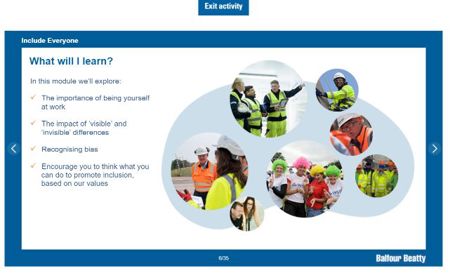 ---
The Clear Company
---
Starting on a mission to tackle diversity challenges the construction sector is often familiar with, The Clear Company leaned on to its innovative equality, diversity and inclusion strategy to address the imbalance within its client's workforce – infrastructure firm Balfour Beatty.
The client was eager to understand the strategic value and importance of inclusive leadership and to learn how to remove barriers to underrepresented groups, and so The Clear Company crafted workshops with 20 cohorts and 240+ leaders, where people attended sessions of 3.5 hours each with additional hours before and after work.
As the project found Balfour Beatty's managers wanted to do the right thing and leaders demonstrated an openness to learning, the idea led to good progress, with sector appointment increases in gender and minority ethnic hires, and promotions for those in minority groups.


The project also worked to explore how bias can influence inclusion and exclusion, understand and recognise institutional naivety, and offer practical actions to learn from.


As a result, Balfour Beatty reaped success, with an annual engagement survey showing positive changes in its employee engagement rate across the business. The data revealed that engagement scores by diverse groups overall went up from 63 per cent in 2019 to 76 per cent in 2021, and the engagement numbers among female employees increased by 15 per cent between 2019 and 2021. Engagement among people with disabilities and LGB+ people also grew by 14 per cent and five per cent, respectively.


The judge was impressed that "The Clear Company left no stone unturned in their ability to show how they had worked in partnership with the client and the impact of their work".


They said the company is now working on a number of follow-on projects to continue embedding inclusive leadership and models into recruitment and retention processes, making it "a trusted partner in this space".