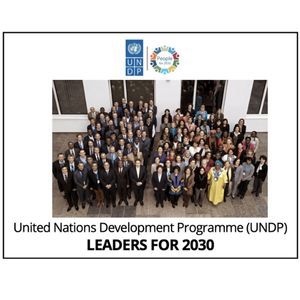 ---
United Nations Development Programme
---
The well-known international organisation focused on eradicating poverty and inequality, the United Nations Development Programme, launched its initiative, Leaders for 2030, last year. Its initiative, a comprehensive senior executive leadership programme, sought to excel in leadership and people management, business management and international development solutions.


After the challenges of the pandemic, during which the UNDP concentrated on onboarding the resident representatives, it launched the Leaders for 2030 programme. It ensured that this fell in line with its Strategic Plan for 2022 to 2025, which aims to target learning and development across areas such as strategic forecasting, finance, digital literacy and leveraging artificial intelligence.

Delivering this new initiative has been, in the organisation's words, "multifaceted", and has involved innovative approaches: UNDP has not only used the latest online learning tools, complete with mobile access to materials, but also partnerships with academic institutions to use cutting-edge techniques for online learning.

One important part of the process was the Design Panel, which was there to ensure accountability among senior leadership at the organisation. Another aspect was the Virtual Leadership Retreat, where more than 200 senior leaders convened to discuss leadership – the first fully virtual leadership event in UNDP's history.

Since then, the initiative has delivered cutting-edge leadership certificates with global leaders in academia, executive coaching and peer mentoring and learning labs. Eight 'Labs' have been delivered, and 360 feedback sessions to come up with individual action plans.

UNDP said the success rate in terms of participation, completion and learner satisfaction has all been positive; 89 per cent of participants rated the programme highly, and attendees of the virtual leadership session showed appreciation. One participant said: "It gave unforeseen perspective from different horizons and an opportunity for in-depth reflection."

The organisation's submission showed that its work is far from over; it has provided a comprehensive set of indicators to measure progress over time, particularly measuring the outcomes of the programme between 2022 and 2025. Its goal is that, by 2025, the leadership model is "consistently demonstrated through the leadership behaviours and practices of UNDP's leadership cadre, leading to improved business outcomes and levels of engagement".

The judges said the initiative was business-focused, and commended the third pillar of their programme, "no one fails". They were impressed with the innovation shown, "especially the links to creativity and talking to partners that were outside the 'normal' leadership development field".