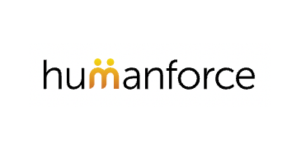 Humanforce
---
GOLD AWARDS SPONSOR
Humanforce is a leading provider of workforce management and payroll solutions that simplify onboarding, scheduling, time & attendance, pay, employee engagement, and communication for deskless workforces. Humanforce was founded in 2002 and has built strong foundations with our 1700-strong customer base and over half a million users across a wide range of industries, including aged care, child care, hospitality, retail, local government and more. Today, we have offices across Australia, New Zealand, and the United Kingdom.
Our vision is to make work easier and life better by focusing on the needs and fulfilment of deskless workers and the efficiency and optimisation of businesses.
Humanforce solutions are designed to help clients drive engagement and productivity for their shift-based, roster-driven ('deskless') workforce, with an intelligent, cloud-based workforce management platform.
We are on a mission to deliver an exceptional employee experience for your workforce by offering a compelling employee value proposition and great work effectiveness through connection, development and wellbeing, and to deliver intelligent manager automation to drive cost optimisation for your business, increase productivity and growth, and enhance your compliance confidence in adapting to evolving challenges and business objectives.
Category sponsor: 'Best employee experience initiative'

---